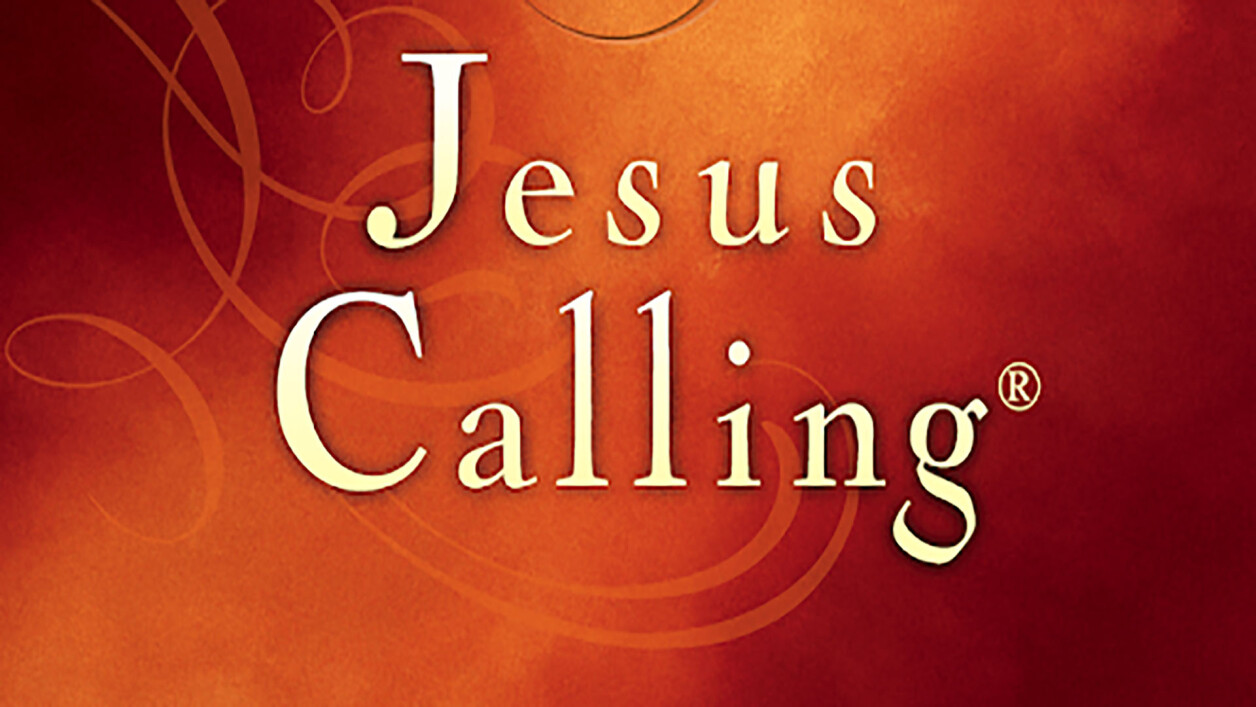 Someone in my church gave to me a copy of the book, Jesus Calling, by author Sarah Young. My church member indicated in her note that she had not read it but because the book was so attractive, she wanted to get it for me. My wife saw it sitting on my desk where it had not been moved in a week and asked, " That's a beautiful book, may I have it?"

She later told me that she was quite uncomfortable with the book and began to read the sections to me that bothered her. I immediately understood her concern. My first reaction was, "This is heretical" but upon finding out more about the author, it would probably be unfair to call this missionary wife and graduate of Covenant Seminary a heretic. However, for the thoughtful Christian who examines her work, her methodology for meeting with God is heretical. Her methodology for sensing in a greater way "God with you" is less than biblical and a common approach used by false teachers and the originators of many cults.

The very first sentence of her book is very revealing because it sets the direction she is going to take the reader. "I FIRST EXPERIENCED THE PRESENCE OF GOD in a setting of exquisite beauty" indicating the high priority she places on "experience" in her encountering the presence of God. Well, let me say the first time I truly experienced the presence of God is when I was eighteen years old and I trusted Christ as my personal Savior. At that moment in time, when I was regenerated by God the Holy Spirit and became a temple of the Spirit, I truly experienced the presence of God (1 Corinthians 6:19-20). Granted, we can all agree that God does speak in His creation in the sense that His "eternal power and divine nature, have been clearly seen, being understood through what has been made" (Romans 1:20). However, the principle way that God speaks is through the specific revelation of His Word. The Apostle Paul reminds us of God's witness of Himself through His creation not so that we can listen to Him speak there but rather to demonstrate that pagan Gentiles had no excuse for denying His existence as seen in their worship of the creation (Romans 1:20-23). Young's experience-driven mentality is seen in the opening of her book as she highlights her experience in the French Alps. Her statement, consciously or unconsciously, puts more credence in her "experience" than it does in the written revelation God has given in His Word. I believe that it is this kind of existential methodology that governs her devotional writings. But, given the fact that the pulpits in America have moved from "sola scriptural-driven preaching" to a "felt need, seeker sensitive, entertainment centered worship service," I am not surprised that a once conservative press (Thomas Nelson) would print this book and that the evangelical community would have such an appetite for it, making it a best seller.

Scripture must drive a person's life and so in reading her "personal testimony" it appears other things were driving her fulfillment. Just the fact that she was working at a counseling center in Atlanta when she should have been a "worker at home" (Titus 2) helps me understand why she was so disenchanted in her relationship with Christ. I wonder if she ever considered the fact that maybe what was missing in her life was not some experiential encounter with Jesus but the daily encounter of being with her children throughout the day and the fulfillment that being in the center of God's will brings. So I am not surprised when she writes that "not once during those sixteen years did I vividly experience the Presence of Jesus" (ix) and that when she quit her job to prepare for their move overseas she "was adjusting to the loss of my fulfilling work as a counselor" (x). When we ignore God's plan and God's design for the family there will always be burn out and a void in the human spirit. We will never find real fulfillment until the Holy Spirit dominates us as He fills us according to the dictates of God's will found in God's Word.

For those of you who have read Young's introduction, you know that a turning point in her life was when she read a book written by two unnamed women titled, God's Calling. These women say they "practiced waiting quietly in God's Presence, pencils and paper in hand, recording the messages they received from Him," with these messages "written in the first person with 'I' designating God" (xi). With that methodology learned from these women established, Sarah Young has now given us the "messages" she has received from God as her time with God has moved from a "monologue" to a "dialogue" (xii). To summarize her time with God Young writes, "This new way of communicating with God became the high point of my day. I knew these writings were not inspired as Scripture is, but they were helping me grow closer to God" (xii). The purpose of Young's devotional Jesus Calling is to, "share some of the messages I have received. . . . I have written them from Jesus' point of view' i.e., the first person singular (I, Me, Mine) always refer to Christ. 'You' refers to you, the reader, so the perspective is that of Jesus speaking to you" (xiii.). These statements alone should be enough to make the, "mature who because of practice have their senses trained to discern good and evil" (Hebrews 5:14) throw the book in the wastebasket! But unfortunately, largely due to weak pulpits and immature believers, the modern church has an appetite for such experience-driven dangerous writing.

When Sarah Young writes, "I knew that God communicated with me through the Bible, but I yearned for more" (xii) what she is really saying is that the Scriptures are not sufficient. Granted, to her credit, while Young affirms, "The Bible is, of course, the only inerrant Word of God" (xiii) in practice she is saying that the Scriptures are really not enough. That great pastor James Montgomery Boice (now enjoying the presence of His Savior in heaven) taught in his classic work, The Preacher and God's Word, that the real battle in our times would not be the reliability of Scripture but rather the sufficiency of the Scripture. I believe that the current decline in Bible exposition goes hand in hand with a belief that while the Bible is infallible and inerrant, it is not enough. So today in Bible-believing churches we prop up our services with skits, entertainment, and short feel-good sermons. This is precisely what Young's book reflects - - that the Scriptures are not sufficient - - that we need more. So I am not surprised that she tells us that we need to be waiting with pen in hand to listen for a message directly from God.

What Young does is reminiscent of what Ellen G. White, the founder of Seventh Day Adventism, taught about the Bible. She never denied the inerrancy and infallibility of Scripture, but she did say that her writings were a "lesser light" to lead men and women to the "greater light" of the Bible (Ellen G. White, Review and Herald, January 20, 1903). Adventists to this day affirm that the Bible is their ultimate authority but they pore over the messages that White received from God. While I am sure Sarah Young has a much different motivation and theology from Ellen White, her methodology in practice is no different. Every major cult that has ever started always has some revelation, some dream, some vision, some extra book, some message that someone has received in addition to the Bible. So when Young writes, "I invite you to keep a journal to record any thoughts or impressions you receive as you wait in His Presence," she is setting a very dangerous precedent for the Body of Christ. She is in her admonishment implicitly telling us not to pore over the Scriptures to understand them in their original historical grammatical context in order to apply them to our lives. And yet it is through our study of Scripture alone that God truly intends for us to experience His presence (John 4:21). Instead, she is encouraging us to seek "messages" from listening to Jesus. Personally, like the prophet Isaiah, I tremble at God's Word (Isaiah 66:2) and so for me to put the first person pronoun "I" to designate the messages I have received from Jesus only makes me shudder. I do not want to add or subtract to God's Word (Deuteronomy 4:2; Proverbs
30:6; Revelation 22:18-19). I believe the Bible is the only "voice" to which I should be listening. Her devotional approach to meeting with God is only setting the stage for gross error to walk through the front door of an already anemic evangelical church. Twenty-five years ago her book would not have been a best seller amongst evangelical Christians. It would have received severe criticism and I can promise you that Thomas Nelson would never have published it. In years past, the Body of Christ would pore over their Bibles looking to the Holy Spirit to illuminate the Scripture He had given to make us adequate "for every good work" (2 Timothy 3:16-17). When the Apostle Paul prayed for the Ephesians he did not pray that we would listen for some message from Jesus but that, "the eyes of your heart may be enlightened, so that you may know what is the hope of His calling, what are the riches of the glory of His inheritance in the saints, and what is the surpassing greatness of His power toward us who believe" (Ephesians 1:18-19). The church today needs to be discovering the spiritual riches that God has already blessed us with in Christ Jesus not looking and listening for some new or additional impression from God. But anemic Christians who do not study the Scriptures diligently, who do not search the Scriptures like someone yearning to find gold, who are driven by the sensual rather than by the spiritual, will be quick to adopt Young's methodology.

There is so much more I could say and I have not even commented beyond her introduction. I have never met this woman and have never heard of her before I was given this book. I doubt if I interviewed her that I would find gaping holes in her theology. But this concept of teaching that we should with pen and paper in hand be ready to receive direct messages from Christ is very disconcerting. She is encouraging a dangerous practice and doing a great disservice to the Body of Christ. I could never ever recommend this book or any book that mimics its practice.

Jesus Calling and its predecessor God Calling are, in their own way, very dangerous books. Though the theology in Jesus Calling is for the most part consistent with historical Christian theology, my great concern is that it teaches a methodology of meeting with God that is anti-Scriptural. To present as normative hearing words directly from Jesus and then sharing these words with others is something the cults have always been known for, not evangelical Christians. To elevate one's experience over the authority of Scripture is a dangerous methodology to teach. I think of all the young immature Christians who will be given this book to their spiritual detriment. And it is so sad that so many so-called 'mature Christians' are enamored with this work. If I did not believe in the sovereignty of God over His Church, books like this would make me despair as a pastor. I could never possibly recommend this book.